Wapato Point Map
Vacation Rentals Lake Chelan
Welcome to Wapato Point! Our Wapato Point Resort map is the best way to take a look at this beautiful piece of the Lake Chelan Valley. The Wapato Point resort is 116 acres that juts out into the beautiful Lake Chelan, creating the Manson Bay. Wapato Point is close to the amenities in Manson, WA. There, you'll find a host of welcoming wineries, breweries and cider taphouses, restaurants and bars. On Saturday mornings, you can walk to the Farmer's market and find all of your favorite baked goods, artisanal crafts and fresh cut flowers.
On the Wapato Point grounds, you'll have everything you could want for a fun and relaxing vacation. From boat and jet-ski rentals to fine dining and premier wines, there is something for everyone at Wapato Point.
Choose your own adventure by looking at the Wapato Point Map below and deciding where the best rental would be for you.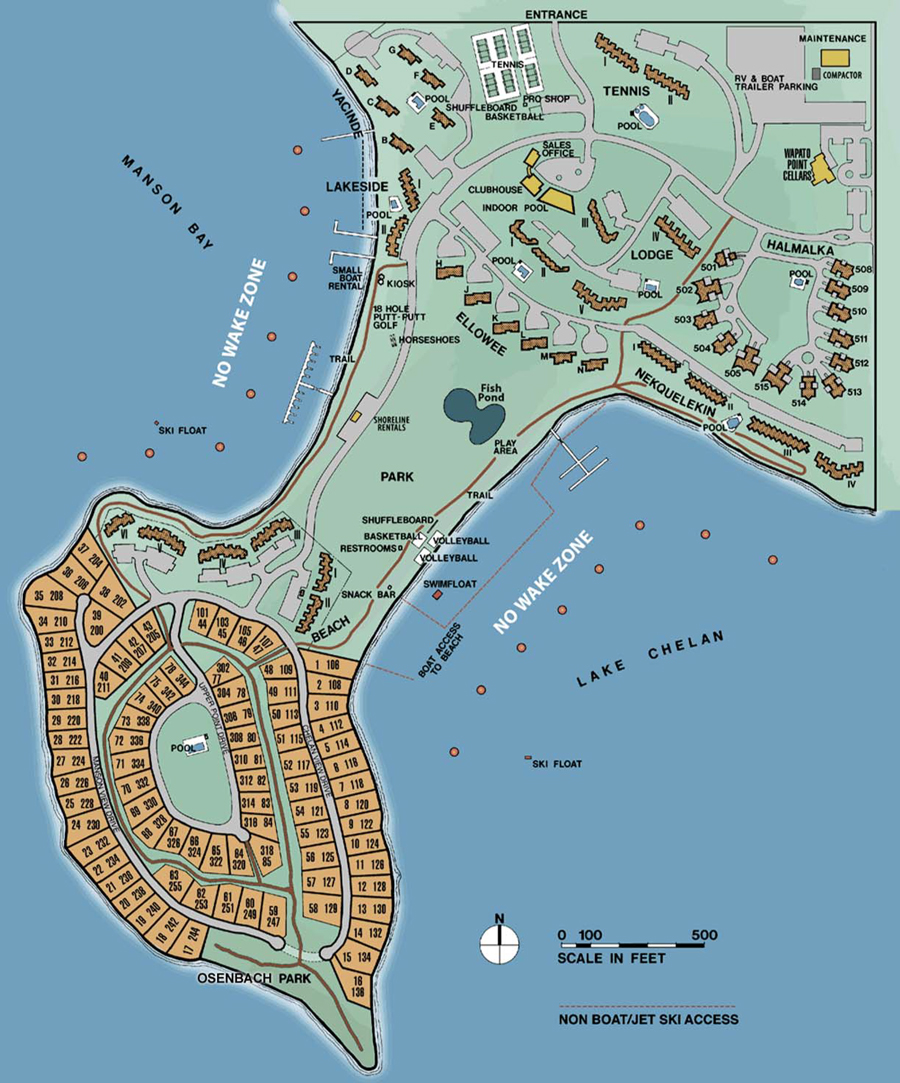 Beach
The Beach Condominiums have phenomenal views of either down lake toward Chelan or into the Manson Bay. The Beach Condos are located on the peninsula next to the residential homes. Spend your Manson vacation with a beach right out of your front door!
Yacinde
Yacinde is on the north side of Wapato Point. These rentals provide the perfect views of the sunset and the Manson Bay. Take a dip in the lake or take advantage of the outdoor pool in Yacine.
Elowee
Elowee has a little bit of everything when it comes to views. Perched atop the peninsula, Elowee has views of the lake as well as the beautiful fishpond and play area greens. These condos are situated next to the jogging trail, and the fantastic recreation kiosk, putt-putt golf course and the jet ski rentals.
Lodge
If you are looking for a place with some beautiful trees and an indoor pool, the Lodge vacation rentals are perfect for you. You're a walk away from the beach, recreation amenities or the Wapato Point Cellars tasting room and fine dining.
Lakeside
Right next to Yacinde are the Lakeside condos. These vacation rentals overlook Manson Bay and there is a small boat rental, the beach or a pool. Enjoy a perfect view of the sunset or take a walk along the running trail.
Tennis
The Tennis Condos are located near the entrance of Wapato Point and just a walk away from all of the amenities in both Wapato Point and Manson. These are the perfect rentals for the avid tennis player, being right next to the many tennis courts.
Nekquelekin
The Nekquelekin Condos are just at the edge of Wapato Point's property. The views from your balcony are beautiful, making it the perfect place for a barbeque. Take a dip in the pool or take a walk on the beach or head to the fishing pond.